Toradex, a leading provider of embedded systems solutions, has announced the launch of its Verdin AM62 System on Module (SoM), based on the AM623 processor from Texas Instruments™ (TI). This new module focuses on ease of use, connectivity, and scalability for the Industrial Internet of Things (IIoT), Human-machine-interaction (HMI), and gateway applications.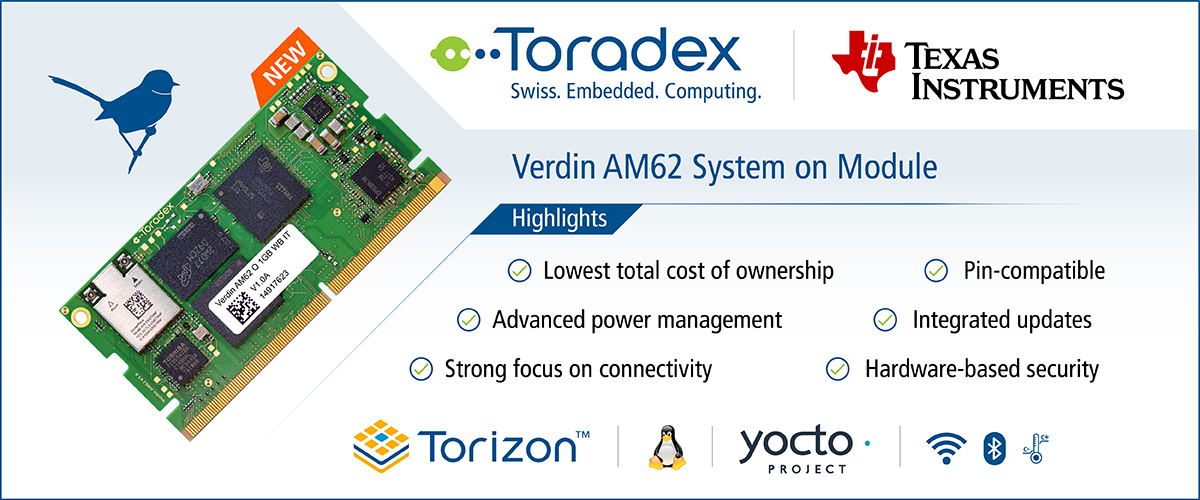 The Verdin AM62 is available with [Torizon](https://www.torizon.io/) - an easy-to-use Industrial Linux Platform that modernizes the development and deployment of Linux-based products. The combination of the AM62 with Torizon offers a reliable and secure full-stack embedded computing platform, including a maintained and tested Linux Distribution, IDE Integration, OTA Remote Updates, Device Monitoring, and Remote Access to increase the overall product lifetime value.
Toradex's Verdin family of products is designed to provide scalability via software and pin-compatible modules. Other Verdin SoMs include the Verdin iMX8M Mini and the iMX8M Plus. Verdin's peripheral interfaces are optimized for modern industrial IoT and gateway applications, including Gigabit Ethernet, PCIe, CAN FD, Wi-Fi, and Bluetooth. Reference designs with extensive documentation simplify the creation of your customized carrier board.
For more information on the Verdin AM62, see our product page.
If you'd like to sign up for early access, please do so here.
type or paste code here